On 4th february 2008 we let Brie start to enjoy her retirement with a wonderful couple called Lorna and Brian Whiteley who have had Old English Sheepdogs all their married life and who only live in a village down the road from us. Lorna and Brian had contacted us looking for an older dog to love and have fun with having had several older ones already in the past.
After some deliberation on our part and putting Brie's happiness foremost we sent her off for a trial period to stay with Lorna and Brian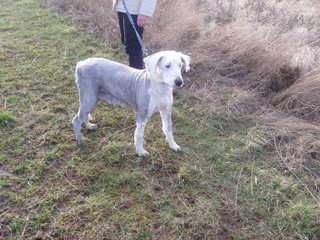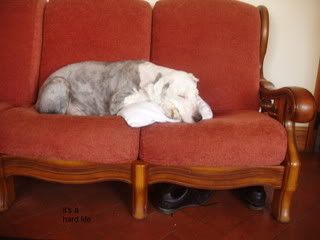 Heavens Hallmark in absolute Heaven !
Brie settled in almost immediately and I'm told actually took over. It's quite right what I say elsewhere on my website, these dogs do tend to own you! and not the other way around.
In March 2008 she enjoyed her first snow expedition with lorna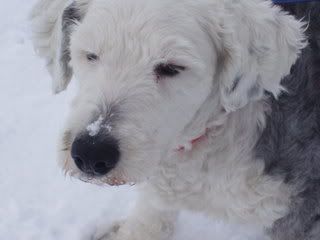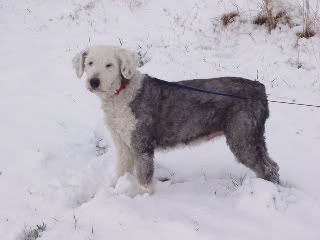 .. and in May she went off to Northumberland to visit Brian and Lorna's son where she discovered the beach close by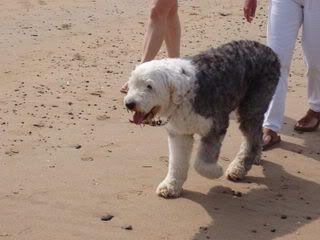 A few months down the line, once we knew she was settled and happy Brie was spayed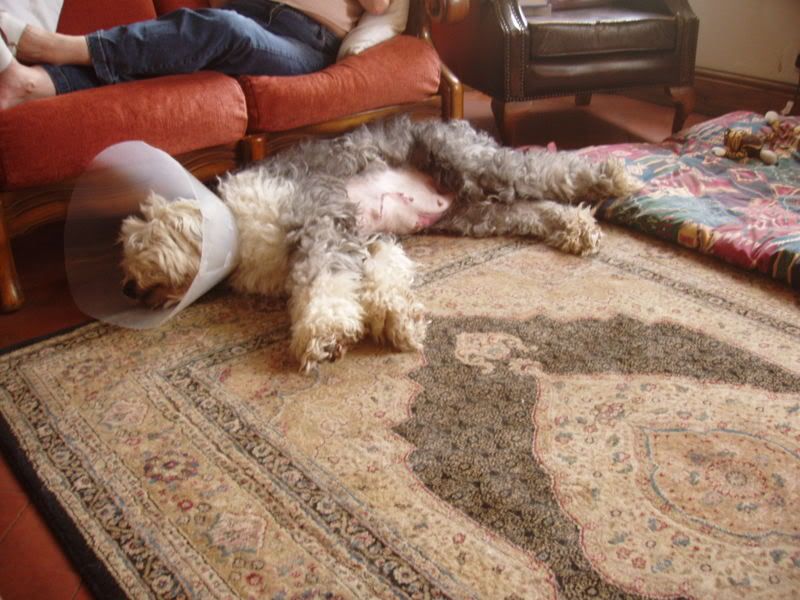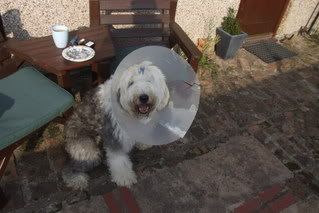 She has grown to adore Lorna and Brian and has become a firm part of the family with them.
The decision to let Brie leave her home with us from birth wasn't an easy one but like all good tales the proof of the pudding is in the eating. We couldn't be more pleased with how it has mapped out and Brie is the happiest she has ever been and ruling the roost to boot!
I would like to take this opportunity to thank Lorna and Brian from the bottom of my heart for contacting me and for giving Brie the most caring and loving home imaginable.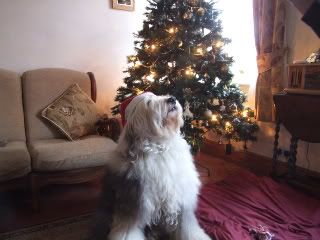 Happy Christmas from Brie at the end of 2008!
..but watch this space, there will be more antics to report I'm sure!
Update 10th february 2009
Hi Paula and all at Haverlands.
Well it is 1 year (and a little bit)since that wonder full but scary day that we adopted Brie.
we have never regretted it for one moment.Some of our friends back home in the Tees side area think we were a little bit mad (well we,ve always been that way)but when they saw Brie we think they realised what it was all about.Lorna & I would like to thank you for allowing Brie into our home.Please find a photo of Brie in one of her silly cuddle moments.
might be a good one for the Brie blog site,hope you like it.
                                Take care luv Lorna Brian & Brie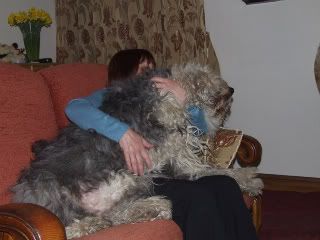 Brie's Antics and Holiday fun!
 An excerpt from Lorna and Brian's Brie updates to me in April 2009 :-
Brie is a real drama queen,dont konw what it was but a couple of weeks ago she started limping on her front left leg.we checked her out but could find nothing.It cleared up but now when she remembers she will hold up the same leg,and we have to stroke it.I will try and get a photo of her doing it.Took her for a car ride last sunday up around the North Yorks moors.went a bit further than planned,left about 11am and did not get home till nearly7pm,she flaked out for the rest of the night.....
....... Oh nearly forgot,we took a few sandwiches etc with us and some dog biscuits for Brie,but Brie being as she is, sniffed the dog biscuits and looked at Lorna,and just waited for HER sandwich.Lorna and I burst out laughing.Find enclosed 2 phots of last Sunday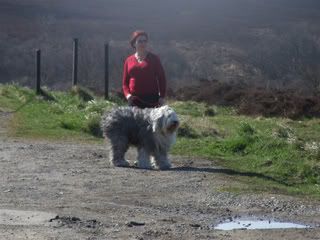 This lovely shot of Brie arrived early this month (June)  but she won't be looking like this now as a little bird tells me she's been off to the hairdressers for a wash and brush up!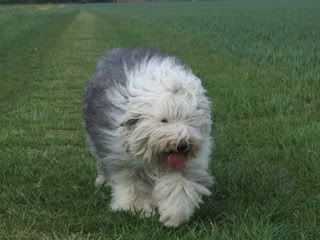 ... and so, the before (above) and after below (Thanks Brian)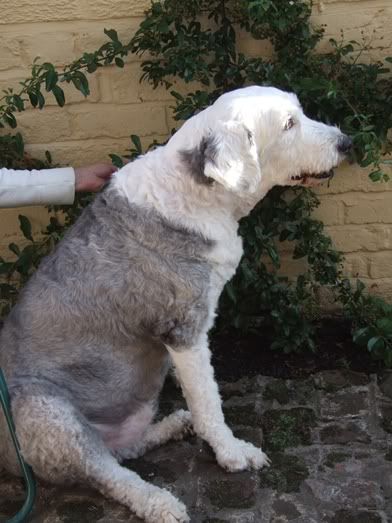 August 2009 - From Brian and Lorna
Brie never fails to amuse Lorna & I. I have always given her some Bonio's at night,between 9.30pm &10.30pm depending the shift I am on. In the last 3 weeks or so Brie would let me know it was time for treats,but to our surprise she has started to hide/bury them around the living room for about half hour before finding them, then munching on them.Monday evening she put one behind the coushion on the sofa,and left it there till the next night.
I am going to see if she will do this during the day so I can capture her on video.
I love adding the updates that Brian and Lorna send. I hope they have told Brie that she's going to be a grandma yet again!