I don't know about anyone else but hasn't this been the longest god awful winter in years.  It's a good job our Bobtails have such good coats to cope with all that the British weather throws our way. Wouldn't it be good to get clothing made from it. Would certainly make for a warmer winter lol
 At the beginning of March we took one of our own back into the fold. Myhaverlands Valentino (aka Max) was returned to us because of his owners exceptional medical circumstances.  What a lovely boy he is proving to be and a credit to his family. House trained, vaccinated, lead trained, obedient, albeit full of the joys of life that is youthful exuberance would suggest. We would be surprised if he were anything else. He has the beautiful expressive eyes and affection of his father and the size and robustness of his mother which reaffirms our decision to mate the two together. What a spectacular way to prove we got it right. Nothing like seeing proof of the pudding.
 So much so that we have repeated the mating this week for a second litter bred exactly the same way, in June 2013 
Life here has been calm and quiet.  The dogs are chilled and most of them have now had their summer clip, which is just as well as it's looking like it's going to be an Indian summer again this year.  Bonnie's hip and eye tests came back all very good and hopefully we plan a litter from her by Rudi when she comes into season in September.
Just one left to do now in Lexi but I'm confident that she will score well.  Without exception, my dogs have all tested well, but then again, I have tested for many years now and will not breed from anything sub standard.
Our cheeky little black and tan show cocker spaniel, Crumble has also been recently tested and is not affected by PRA or FN. I must get round to taking some pictures of her for the site, well, that's if she stays still long enough for me to do so
June Bank Holiday Monday devastation
I write this with so much sadness in my heart as we had to have our beloved Dan (Jamacdale Curiosity) put to sleep. It all happened so suddenly. Days before he was lording it over all the young whipper snappers on the farm and checking out the girls, just to make sure nothing was in season.  He stood chattering away to me in his usual (almost human speak) when I was mucking the horses out and I even commented on the fact that no one would know he was approaching 12 years old. Then everything changed on sunday 3rd June.  He was subdued and experienced a nosebleed from one nostril. He still ate his tea and I made a mental note to take him to my vet for an MOT after the bank holiday weekend. But the next morning I found him very weak having lost much blood overnight. We rushed him to the vet who diagnosed that he has a tumour, back in his nasal cavity which appeared to have invaded a main artery.  Dan went to sleep that morning in our arms. RIP my best man.  I so hope people are right, and that you find your friends over Rainbow Bridge.  Wait for me my man. I will find you when it's my turn.......
Last picture I ever took of the old boy, waiting for me to tip the muck barrow
 A friend put this comment on fb today and I thought how appropriate
"Don't cry because it's over, smile because it happened."
― Dr. Seuss
Our beautiful Samba has been scanned in whelp with her very first litter.  She is now 3 years old and a very mature and sweet tempered lady.  We are now busy preparing the nursery ready for the new arrivals due at the end of September. My gorgeous girlie is taking it all in her stride.  I'm sure she's going to be a brilliant mother
 Early days! Expectant parents
Lexi now 14 weeks old - Easter 2011
Time passes by so quickly and now Lexi is 14 weeks and is enjoying the garden proper having had all her injections completed.  She's such a sweetie but a proper little madam with Rudi. My fear was that he would overwhelm her but she's having none of that and doesn't half give as good as she gets with him!
WE HAVE LIFT OFF !!!l
 Lexi in a spin ...............

Rudi has no chance of keeping up with this little madam!
Time to meet the New additions !
This is going to be fun as it's some time since I updated the site and so much to include.
First for you to meet is Bonnie (Myhaverlands Cadenza) who has returned to me at 16 months old following a change in family circumstances. She has settled straight away and I find it impossible to believe she hasn't been here all her life.  Bonnie is from Diasy x Willys litter born in 2009. She has made a fine, happy dog with the most beautiful temperament. I am so pleased with how she has turned out. All credit to her former family! She is a real comic and a dab hand at football. She's the only bobtail I've had that is a skilled footy player and can catch every single ball no matter how fast it's aimed at her!
 My next and newest addition is my 9 week old puppy girl. She was pick of a litter of 7 and chosen by me at 3 weeks old. She carries most of my bloodlines as her sire is a son of my Tigga and her mother is a daughter of my Dan mixed nicely with some other old english breeding. She is a very confident, extrovert puppy, inquisitive and brave, she loves contact of people and the other dogs.  I can't wait to get her out and about after her vaccination course is complete.  She was name Lexi after my friend's daughter, so it has ended up sticking (Fourwitches Sapphire over Myhaverlands)
Well, after several seasons of trying to get Millie in whelp we finally succeeded, resulting in her producing a small litter of beautiful babies.  All but one were girls and unfortunately (as these things tend to occasionally happen) the little boy faded and we lost him on day 5 after trying our utmost to get him through.  
Now almost 3 weeks old the remaining girls are all growing and doing fine. They have just opened their eyes and started raising themselves to their feet. I even heard them barking yesterday for the first time.  Looks like they're going to be as vocal as their singing mother.  Millie doesn't look like she's delivered puppies recently. She is in fine fettle and eating me out of house and home. She is a wonderful and attentive mother hen with her brood and the girls are all like roly polys. I am thrilled with how things are going.
I'll be starting them lapping in the next few days. I have my trusty milk and Redybrek waiting to be used. I will post pictures shortly but am nursing a chest infection at the moment and not feeling as bright as I could be
The girls at 6 1/2 weeks old !
Millie's baby girls are coming on great guns now. They are lovely, friendly and very playful babies now. Their little personalities are starting to shine through. I love this stage when they recognise my voice and bark in anticipation of their dinner arriving.  They have appitites like baby elephants now. No need to mush up their food. It's just bring it on and serve it up and they clear each and every dish full.  They all weigh in at around 4 kilos, give or take and I'm delighted with their development.
I hope you enjoy the pictures and small video I have taken of my little girls, now 4 weeks old and starting to look like bobtails at last. 
They had their first visitors today. Susie and her lovely family all came to say Hi to them and to pick their new baby. Daisy managed to give them all lots of cuddles before leaving for home
My poor dogs!..... Bobtails in full coat and baking hot weather just don't mix well.
I've invested in a brand new set of Andis Clippers and started to tackle them head on. I've just got 3 left to do now having worked myself into a frazzle clipping them all off and BOY how theyare now enjoying life! Hose pipe comes out most days. I have some who can't wait for a soaking and others who are professional dukcers and divers, thinking they'll melt if the water dares to hit them.  Pagan, being Pagan can catch the water bursts with ease but poor old Buffy thinks there's something in it that may well kill her and runs for cover as soon as |I reach for the hosepipe. I really must get some video of them at play again !
Only this morning I got a fantastic picture from Lucy (who is currently sunning herself on a Cornish beach somewhere) Showing me how Farren was enjoying the seaside adventure
Thanks Lucy (for rubbing my nose in it)
My scruffy muts in the January snow!
I couldn't resist posting this mobile phone video. They all look like Worzel Gummage on speed (except Dan the man who looks like Bluto in his layers of jumpers,T shirts and waterproof coat) but as you will see, they as happy as Larry
 ... and while I remember; Happy Birthday Wispa!
Loved still, never forgotten. Would have been 23 today ! (5th January 1987)
 and them playing at 7 weeks old
Maybe now is best time to introduce my lovely 8 month old grandaughter of Dan, our stud dog. She has come to join us here at Haverlands. Her name is 'Samba' and she has been bred by my good friend Kim Heppell-Mooney in Derbyshire. Her dam is one of my own puppies and her sire is Midsummer Magic. She is settling really well, infact it's as though she has never been anywhere else. I will give her her own page shortly but until I get time, here she is!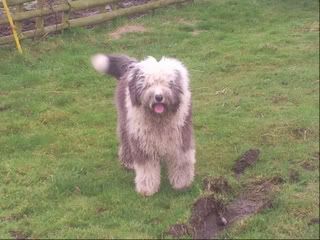 It's with a heavy heart I have to announce that we lost our beautiful old girl, Jade on monday 16th February. She would have been 14 in September coming but unfortunately she lost her fight with cancer and had to be PTS.
As though that wasn't bad enough to deal with we also lost Tigga 4 days later on 20th February. His death was unexpected and we have still not recovered from his loss
Crufts 2008
This year saw me with a car full for the return journey, which was nice as we chatted all the way down and back, making the travelling feel much shorter. My travelling companions included my friend Dorothy Brocklesby-Evans as usual, together with my best friend Kay (who is really a Labrador nut but puts up with our bobtail ranting very well) and Linda who is obsessed with working Border Collies, having 14 of her own ! The day was enjoyable but I can't honestly say that it was the most exciting Crufts I have ever attended. No real buzz at ringside this year for some reason. The day for me seemed not quite what it usually was and I don't really know why ?
Spent a fortune loading myself up with vet bedding and 'bogof' dog and puppy wormers. Met and chatted with hosts of really nice people along the way. Enjoyed a glass of champagne and nibbled the buffet set up alongside the benches by Jeanette (thankyou) in aid of her daughter Victoria's 21st birthday (last wednesday) which they decided to celebrate at Crufts !  (One memory not to be forgotten)
Got a bit of video of ringside and the odd picture which I will attempt to uplaod shortly
---
Crufts 2007
Well...This year travelling wise was much better than last. No roadwork or accident holdups on the A42/M42 so we had a nice clear run down to the NEC and even better than that the carparking was sorted and when we left it took all of 15 minutes to leave and head home. A vast improvement on last year I'm happy to say
The OES on show were wonderful and 'so many with tails' including the Best of Breed winner; Something we are all likely to have to get used to in future years.
Here's the BOB winning dog 'Aryakas Cosmo Junior'
His father, Reatas Cosmopolitan took the same title last year. 
He's 2nd from the left being judged in the video. The dog to the right of him is Sue Goddard's Brinkley American Pie which took Reserve Ticket. I love this dog!
I hope you enjoy the short video!
---
 Crufts 2006
Mixed feelings about this years show!
We were hindered by traffic problems and arrived later than we had planned. Usually we are benched and at ringside by 8am but this time with roadworks and road accidents we landed at 9.40 and missed the first classes judged and not a seat in the house.  By the time we arrived judging was well under way. We had missed our beloved Digby strutting his stuff but watched him get reserve in good citizens later on.  What a fabulous dog that took BOB this year. Not unexpected by any means but CH Reata's Cosmopolitan without doubt deserved it all. A Greek dog currently staying here in the UK but likley to return eventually. 
I did note just how many overseas dogs were big winners on the day and I'm sure this will continue throughout the Event.
We finally left the venue at 4.55pm but were then confined to the longest queue in NEC carpark that I had ever known.  We queued for 2hours and 20 minutes before eventually exiting and starting the long journey home. I have never seen as many raised tempers. It was pure luck that there were no fights between drivers.  NEC staff could or would not assist or advise.  The whole situation was a farce. We arrived home at 9.45pm and were absolutely wrecked.
This is the first time in many years of attending Crufts that I have reservations on the return next year.  Maybe time will heal my wounds!
Having said that, my mobile was redhot and I caught up with some old and dear friends and met even more new ones.
We took some nice photos and hopefully will put some up for you to see shortly.
Photos courtesy of Jeanette Richardson and Victoria
---
CRUFTS 2005
We had a great day out as always and watched some spectacular examples of our breed in the show rings.  Competition was strong this year but congratulations must go again to Jeanette and Digby (Maritime Blue) who took a very well deserved 4th place in the yearling dog class. I'm sure we'll all be there again next year to try again.........................
Rose and her bitch "Jazzll Dazzle for Mistyrose" in Crufts showring
2004
At Crufts Dog Show 2004 three of Haverlands puppies were highly placed.  Huge congratulations go to Jo Huggan with "Little Man of Strathmore" who took 2nd in Junior Dog with Jeanette Richardson and "Chase The Vision" coming 3rd behind her and Rose Fells with Jazzll Dazzle for Misty Rose being placed 5th in Junior bitch class. We are very proud of them all!
All three have now qualifed for Crufts 2005, together with another of our younger dogs "Maritime Blue" who is also with Jeanette. We wish them all the very best of Luck and will be there to cheer them all on next March.

We do generally know where there are litters already born or  planned so if you are searching for a bobtail puppy then please let us know, we may be able to help you.
Myhaverlands Gambit Returns
| | |
| --- | --- |
| | |
| Murphy 'shattered' | Alas Smith and Jones |
We would like you to meet Murphy, who has recently come home to us as his owners cannot keep him due to business commitments. Murphy is a lovely chap. Full of the joys of spring and has settled really well. He's enjoying canine games and companionship from our other dogs and is a pleasure to have around
Parliament and the Animal Welfare Bill
The Animal Welfare Bill became Legislation on April 6th 2007
...meaning a complete and absolute ban of tail docking of all breeds of dog in the UK...
The Council For Docked Breeds has advised breeders not to contravene the bill and most docking vets are or have already ceased docking !
Please do not try to buy a puppy wanting it to be docked. It is now very much illegal!

..................................
For those of you who didn't know about the bill that had been making it's way through Parliament :-

For a number of years now in this country it has been quite lawful to dock breeds of dog if the proceedure is undertaken by a Veterinary Surgeon. Some have declined to participate but others have given their services and continued to dock.
The Animal Welfare Bill includes proposed legislation to cease the proceedure of docking dogs.
The bill went before the House of Commons on 14th March 2006 when MP's voted for a ban on the docking of dogs leaving only exceptions for certain working dogs. The bill will now progress through to the House Of Lords, possibly by 27th March and how they vote will decide the outcome of docked breeds in this country.
Obviously if there is a total outright ban then the appearance of all the docked breeds including OES will be changed forever
We will update when we know the result
Details of the bill etc can be seen on the Council For Docked Breeds Website at http://www.cdb.org/
In early December 2005 we found what we thought to be a mammary tumour on Jade which was confirmed by our Vet the next day. She went in for the operation the very next day (last Friday 9th December) and we spent a very tense day biting fingernails awaiting the outcome.
I can report that..so far so good! Our vet was an absolute star and so was Jade. She sailed through the operation and came home the same evening with a 12 inch scar on her under carriage and two drain tubes sewn in alongside. We took her for a check up today (12th) and she was remarkable spritely and happy with herself.....Not bad for a 91/2 year old big girl!
Hopefully the tubes can come out later this week and her many stitches next week, fingers crossed. Will keep the site posted!
22nd December
Jade has had both drainage tubes and now stitches removed on 19th. The wound was clean and the bruising all but gone until yesterday when she had a small relapse and is now back on antibiotics and anti inflamatories for another week as fluid started to build up and she became uncomfortable. Can I say that she's relishing the extra attention!
August 2006 sees both Jade and Jess in really good Health.
As you can probably see it's a toss up to see which one "ate all the pies"
Excuse the grubby floors! These two girls are scruffs and I'm just waiting for dog friendly dark grey slate tiles